Customer Testimonials
Below are recent reviews from Land Rover South Shore customers. As you can tell from our feedback, ensuring a positive customer experience is one a top priority.
Browse the feedback below and plan a visit to the dealership today to find out why we get the positive feedback we do.
Already visited us? Leave us a review and let others know how your buying experience was with us.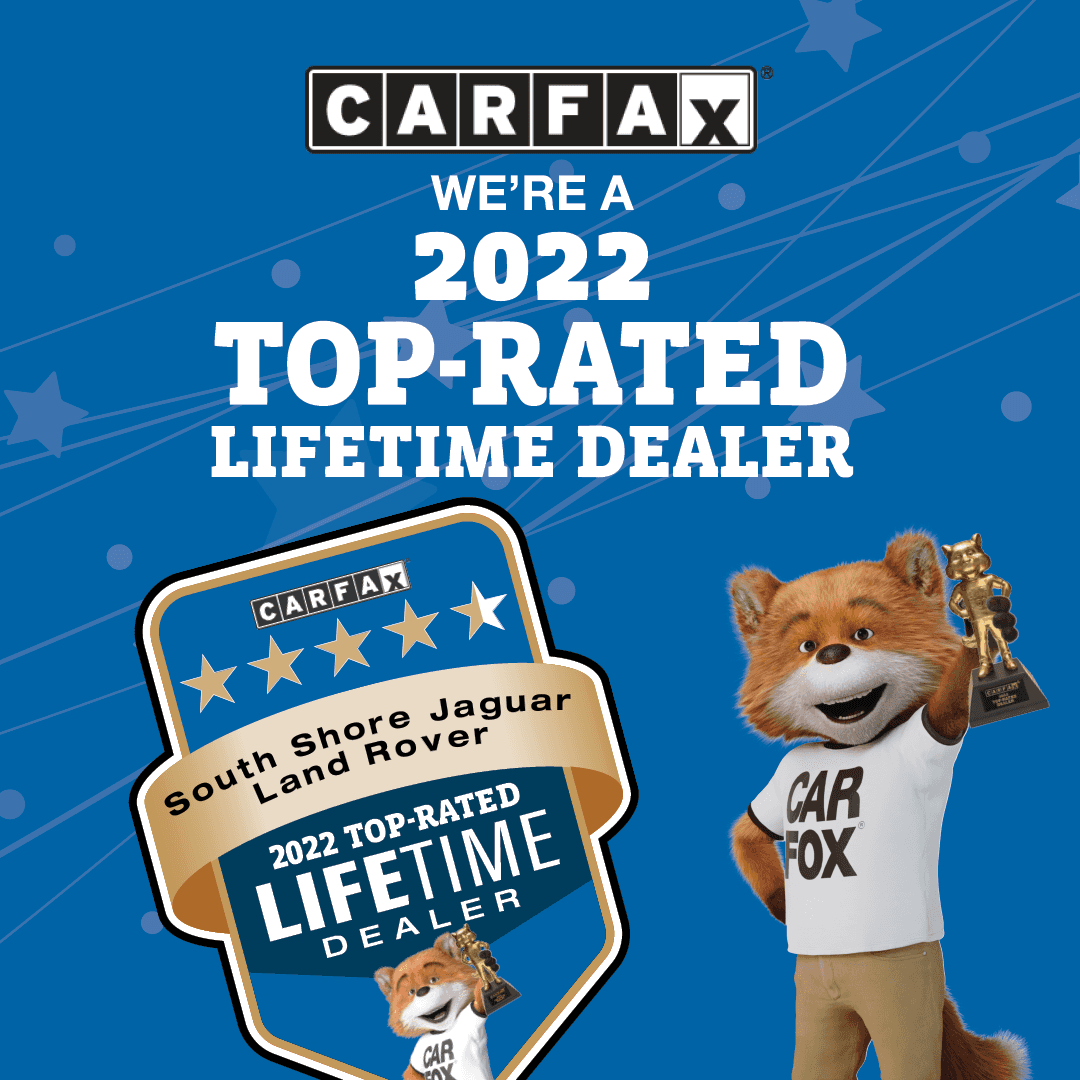 Land Rover South Shore is proud to be a 2022 Carfax Top Rated Limetime Dealer!
purchased a range rover approx 2 mos ago as an out of state purchase. we had an unpredictable issue w the car on delivery. the manager and staff handled everything remotely including interfacing w our local dealership to quickly handle the issue. they could have easily walked away, but they decided to own the experience and help us in every way possible. much appreciated and i hope this review will help jack and his team.
Easily the best car buying experience ever. After reviewing the existing inventories of several area Jaguar dealers, I decided to build my own. I worked with Jordan Bibbs at South Shore. He walked me thru the various options and made sure I had all of the information to build my dream car. After the order, Jordan kept me up to date on the progress of the build right up to it's delivery at the dealership. And he followed up after he sale to answer any questions and make sure the car met my expectations.
The whole experience from start to finish was thorough, engaging, knowledgeable, and to the point. Extremely friendly and we purchased our vehicle out of state needing it delivered. It arrived a day earlier than expected and the entire process was seamless. Hands down our best experience in purchasing our Range Rover and we have purchased a lot of vehicles throughout the years. Go check these guys out! Also, want to give a shout out to their tech contact for being top notch and so easy to work with getting the app setup!
Merriville Jaguar Land rover is the best service I have ever experienced. Not a joke my experience with them servicing me vehicle was nothing short of superb. Bottom line you get what pay for. Excellence!!!!!!
If anyone decides to acquire a car from Land rover South Shore, they will not be disappointed. The staff is excellent, and the general communication is excellent. Brendan and Megan are wonderful employees who answered all of my inquiries when I needed them. Sam from the service department was very courteous and helpful when I had questions regarding my vehicle. I would recommend anyone seeking to buy a vehicle to visit Land rover- Jaguar in Crown Point, Indiana.
The experience at Land Rover South Shore was surely amazing! Never have I ever had such great customer service when purchasing a vehicle! From general manager Jack Pearson, to Michael Kopack, and Rick in Finance - the service was top tier! I would surely recommend Jaguar Land Rover South Shore to any and all! The team surely made my dreams come true in purchasing my dream vehicle! Their expertise was spot on, they had the vehicle I wanted out of all Land Rover dealerships, and only 3.5 hours of my time was surely applauding...the only thing missing was the champagne 🙂 ...
Above and beyond service from start to finish. Toby Chen was fantastic. No high pressure feelings ever and we were welcomed every time we visited as we searched for the ideal car. Highly recommend, very professional staff that do their best to understand your needs. Amazing experience, definitely worth the drive from Chicago!
Great customer service! And I love my vehicle
Had a genuinely GREAT experience buying a car from Charles Brakebill and the gang at South Shore Jaguar Land Rover. The whole gang actually--the two Jacks, the gent who showed me how to use the app in the car--this is my first-ever five star, car-buying experience. Their price for my trade was MUCH better than the CarMax price I'd been offered, and they even beat the BOA rate that I walked in with. Thanks gang, really appreciate everything!
My sales guy Kenny was very polite and professional. Brendan in the service department was a breath of fresh air. He's always smiling and very polite.
Best sales staff and management staff anyone in Chicago area please call them ask for my guy jack he's the general manager or Toby best salesman there seriously check out this place
My wife and I purchased our car here at Jaguar Land Rover recently. We met with Charles who was very helpful and timely throughout the purchasing process. After our long drive home, we noticed there was an issue with the vehicle that we hadn't noticed during our walk around at the dealership. I called up Chris, the sales manager, and he was incredibly helpful in providing a solution to the issue. From my experience, the team at Jaguar Land Rover are great to work with, honest, and true to their word. I would recommend them to anyone.
Gabby was excellent. She was intentional In her actions and made sure that my needs were met and checked in with me throughout the entire process. She even went as far as to check on me after my vehicle was returned. I appreciate her and the service provided.
Jordan was awesome, I was an internet buyer and he kept me informed throughout the process and made it a great experience!
Couldn't say more about the staff at South Shore. Laura, Jack, and Jim went above and beyond in helping me with my purchase and made everything as smooth as possible w/ no pressure and answered any and all of my questions. One of the rare, good dealers in NW IN.
Had an exceptional buying experience.
It was a very honest and great experience from the beginning. Our salesperson Toby was very knowledgeable and personable and the sales manager Jack and finance manager were both great, It was the best experience at a car dealership that I have ever had and I have purchased a lot of vehicles over the years in Indiana and Illinois
Always a Very professional & high standard experience thorough with service and exceeds every expectations! Thank you Megan !!
Absolutely love the service here at Jaguar Land Rover South Shore I can always expect the best from this location! I do not mind the drive, being 35-40 mins away. The professionalism and assistance is unmatched. Gabby and Brendan usually get me in and out with all questions asked and updates! Do not hesitate to stop in if needed. The entire team does a great job. Thank you all so much!!
Appreciated speaking with a sales person. Thank you for the help
Smooth transaction. Everyone was so great with my daughter making the experience fun for her. Drove from Chicago and was well worth the drive. Also called me to let me know they found cash in my trade! Will purchase from again! Thank you!
The South Shore team seems to always exceed our expatiations.
Wonderful people to work with.
Exceptional staff and customer service.
I bought a used car from here. Laura was fantastic, as was everyone else. Pricing was very transparent, no ridiculous markups, no baloney. Even though I wasn't in the market for a new Land Rover or Jaguar, I still felt appreciated. This was the most painless car buying experience of my life. I'm very happy with my car. Thanks so much everyone!
Charles was very pleasant and professional. Everyone there is super nice.
Outstanding representation and professionalism from Charles Jones. I will remain a repeat customer.
The service advisors are all pretty great!
I have never been treated so well. Thank you, Brendan Wise, and the whole team at Southshore Land Rover, for your exceptional service and care. Additionally, this was after the sale, and I didn't even purchase my Land Rover, from that dealership. Remarkable service.
Got straight to the point, didn't have to battle for a decent price like in other places. Gave a good amount for my car aswell. Highly recommended if you're looking to buy a car with little to no hassle, ask for Laura she was a great help.
Totally the greatest experience I have had in purchasing a new vehicle!! Jack Pearson was great in securing a wonderful deal for me & Charles was fabulous in driving the vehicle to meet me in Illinois, & picking up my trade in. I would totally recommend the dealership!! Thank You for everything!!!
My husband brought his used newer car there. Nice people. Was there about 1 hour which is unheard of its usually a lot longer than that. They have really good cookies too!!!
Nice place to do business with.
Awesome customer service, Sale person Laura were very detail and showed that she care about her customer.
Walking into a Luxury dealership can be intimidating, especially as a young adult. That was the exact opposite experience I felt at this Jaguar Land Rover facility. I had been searching for a certified pre-owned Land Rover Discovery Sport, and I completed an online inquiry on one of South Shore's available vehicles I found on their convenient website. Within 10 minutes, an associate contacted me and helped me set up an appointment to view the vehicle. The day of my appointment, I met with Chris, the sales manager of the dealer, as well as Jordan, my sales executive. Jordan was ...
Great Experience! Charles was the consummate professional, making our car-buying experience truly 5-stars. He was attentive without being pushy, responsive when we had questions, and made sure we picked the right vehicle to fit our needs. He went above and beyond by ensuring our interaction with the rest of the team at South Shore was smooth and the transaction was handled exactly as we had agreed. Two thumbs up as high as they go for Charles and the team at South Shore.
Recently purchased my first Range Rover from South Shore and I couldn't be more pleased with my experience! From the jump, my sales person, Laura, was incredibly helpful and genuinely listened to what we were looking for. We didn't waste time or feel obligated to look at vehicles we weren't really interested in. She heard the details and specifics and matched us accordingly. She is personable, friendly and genuinely seems to enjoy what she does, which makes a large purchase like this a million times better for the buyer! Additionally, the Sales Manager, Jim, was more than ...
I always receive great service when entering into the building. From sales to management, I am always well taken care of. I love working with Jack and Charles in Sales, Rick in Finance and Brendan in Service. They make an excellent team.
I love Sam Peterson great person.. Great business.. Definitely will be back
Thank you for the quick walk-in oil change.
Brendan was great service advisor. Great communication and fast service.
Laura and Jack were some of the best sales folks I've dealt with. They were creative with their solutions and gave me the absolute best price. Laura checked in with me every so often and kept an open communication without ever being pushy. Dealership experiences this smooth are rare. Highly recommend Laura + this place over all the others in the area.
One of the best car buying experience I have had in every sense!
Very knowledgeable staff. Always a pleasure when purchasing or getting service on my vehicles.
One of the best car buying experiences I've ever had. I had the pleasure of working with the GM directly Jack. From start to finish everything was top notch. I ordered a brand new custom 2023 Range Rover LWB. Jack kept me informed with an update status periodically. This dealership has earned my loyalty and I will be a customer for life. I highly recommend Range Rover South Shore.
Customer centered and focused! They provide excellent customer service from initial inquiry to purchase. I am confident they will continue to show excellent service and care throughout my ownership as well! Jordan B (salesperson) was awesome! Mr. Tandy (financial) was amazing as well - personable, tons of fun, kept it real, and provided fair options! They understand you're buying a luxury car and treat you accordingly!
Thank you for the care and concern taken in servicing my vehicle.
Second car I'm buying from Luis at South Shore! The man knows his stuff and his customer service is like no other. Definitely recommend y'all go see him for next Range Rover or Jaguar purchase!
This place is amazing from a service perspective. I live near a Land Rover dealership but I travel 35 minutes away to have my vehicle services by these professionals. If you are looking for "the" repair shop for land rover in the south subs, look no further. These folks stand by their work and do nothing less than awesome repairs.
If you're looking for a dealership that values every customer and goes through the sales process hoping to get you in the car that's right for you this is the place to go! I'd been to numerous dealerships where when I had walked in I had to almost beg a sales rep to attend to me however that was not the case here as we were greeted with warm welcomes and friendly faces from the whole staff. Thanks to Charles and the rest of the staff for getting me in a Range Rover and making the process ...
I purchased my 2012 XJ8 Portfolio from Mike Kopack. It was a great experience. My husband and I flew in from Mpls and they picked us up at the Airport and drove us to the dealership. My car was waiting in the showroom for me. Mike was great to work with, and I would highly recommend him! Jack McMahon handled our paperwork and financing. He made the process smooth and quick. We highly recommend these two professionals for your new vehicle purchase. Thanks Mike and Jack!
Our experience was great! Charles and Rick were the best!!
The experience was amazing! Charles and Rick is the best! I'm a 2022 Owner Wow 👌 Look at God!
My retirement car. This was the best car buying experience I've ever had. From the time I showed interest on car gurus to the time I picked my car up. Laura was great, the process just flowed. I had to fly in to Chicago, she made sure there was someone (Andrew) there to pick me up at 8:00 in the morning, who was an awesome driver and made me feel very comfortable. The communication between both was phenomenal. I had to drive 3 1/2 hours back home but it was all worth it. Laura had paperwork ready, very knowledgeable about the car ...
My wife and I just purchased our first Range Rover from South Shore We only went to look and loved the vehicle I'm almost 60 and I can say without hesitation that this was by far the best experience I've ever had at a dealership Mike,Jim and Rick made it a pleasure My next Range Rover will be from South Shore
I was in the capable hands of Charles Jones lll for the purchase of a used Jaguar F Type S. Charles was highly professional and did all that he could to make sure the purchase went smoothly & that me expectations were met. I have no reservations in promoting Charles or South Shore Jaguar - Land Rover as an excellent choice when making a vehicle purchase
Great sales and service, most definitely recommend this establishment for anyone interested in purchasing a jaguar or Range Rover
Laura and Jim did the thing!!!! I love my Explorer. Warm greetings, made sure we were comfortable they entire time and NO PRESSURING. I would definitely recommend them! By far the best interaction of any car purchase I've made in the past.
This place is A1 when it comes to customer service. I ended up purchasing my dream car out the showroom.
Always a great experience. Brendon is a great service advisor
Service department has greatly improved from their earlier years. This is my 4th Rover and they've all had their quirks. My current one especially has numerous issue that never seem to get resolved. Service Advisor Megan really worked hard to resolve the issues and make things right. Communication was excellent. Work completed on time. Estimate was accurate. Kudos to Megan and new management!!
We had an amazing experience at JLR South Shore at Crown Point! Our salesman, Jordan was excellent! He was personable, professional and knowledgeable in regards to all of the vehicles! He went above and beyond to accommodate us! The sales and finance team were very courteous and treated us so well! We traveled quite a distance and it was well worth it! We love our Jaguar F-Pace! We will be back in the future!
We had nothing but EXCELLENT service from the time I walked in until we were done! Everyone was extremely friendly and helpful, particularly our Salesman Charles! He is by far the BEST we have ever worked with! Thank you Jaguar Land Rover South Shore for your EXCELLENT service! Will definitely recommend and continue to be a costumer!!
Love Mr, Chen sooo much. Highly recommend. Really enjoy the experience and his professional knowledge.
Worked with Toby from this dealership multiple times. Extremely professional and always provides great service.
Words can't express how elated we were with Laura's expertise in helping us purchase our Range Rover HSE. She was so attentive and made the process smooth. She is amazing at what she does and I continue to send people her way!
Toby is extremely reliable and helpful when looking for your perfect car! He easily answered all of my questions and goes above and beyond for his customers. I highly recommend asking Toby to help you out at this dealership!
Great place and people to do business with
My experience at Jaguar land rover of South shore was excellent. Our saleswoman Laura Dominici has great product knowledge of all the vehicles we were interested in purchasing. We felt comfortable with our purchase of a new 2022 Range Rover P400 HSE! She's so helpful and pleasant we followed Laura from another dealership in Illinois. We'll always support Laura wherever so goes. Thank you again for great professional service!
Bought my first car there few months ago. Nice car and really great service. Glad I found this place.
Awesome service. My tradein car got very high return and the new buy experience was great. Definitely worth spending time to ask for a quote if you are looking for a new car.
I spoke with Laura Dominici prior to coming into the dealership to purchase my vehicle. She was very helpful and professional; answered all my questions and was very knowledgeable about the different vehicle. I believe she had my interest at heart and found the best vehicle with a good price that fit all my needs. She was very patient! If you're looking for someone to listen and find you your perfect car. Laura is your girl!!! She was absolutely amazing!!!!
---